---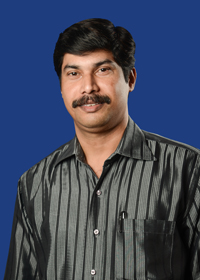 Profile

DESIGNATION:
Associate Professor in Konkani
CONTACT NO:
9860716071
EMAIL:
rajay.pawar@gmail.com
ADDRESS:
'Omkar', Navdurga Garden, Kalma-Mal, Bori, Ponda – GOA
QUALIFICATION:
M.A., Ph.D.
DATE OF APPOINTMENT TO PRESENT POST:
03rd January 1997
PAY SCALE:
37400 –  67000  / AGP-9000
AREA OF SPECIALIZATION:
Konkani Language & Literature
RESEARCH PUBLICATIONS:

A)NATIONAL

B)INTERNATIONAL

C)LOCAL

Published research articles  through JAAG – Konkani monthly.

RESEARCH PROJECTSUNDERTAKEN:-FUNDING AGENCY

MINOR

MAJOR

Completed and submitted a MINOR RESEARCH PROJECT titled 'Critical Study of Dr. R. V. Pandit's Poetry' funded by UGC, Regional Center, Pune.
PUBLICATIONS:JOURNAL:NATIONAL

INTERNATIONAL

BOOKS:

EDITED BOOKS:

CHAPTERS ARTICLES IN BOOKS:

Konkani Poems & Dramas.

My poems have been included in National Compilations.

Published literature: PAVSFULLAM (Poems), JAMLE RE JAMLE, AAMCHO HAATH JAGANNATH, DARNE KA NAAY etc (Dramas).

Edited YUVANKUR, DUDHASAGAR (Konkani Magazines)

KARBHAARI KONKANI,   Goa In the 20th Century : History & Culture,  Konkani Encyclopedia,  Visaavya Shenkdyachyo Konkani Kavita etc.

PATENTS/INNOVATIONS:
Study of Navayati  Konkni Poetry.
CONSULTANCY ASSIGNMENTS UNDERTAKEN:
Translations of PUNJABI poems for SAHITYA ACADEMY, NEW DELHI.Served as JURY for the National SAHITYA ACADEMY AWARDS.Provided translation services to the Industrial Units in Goa.
SEMINARS/WORKSHOPS ATTENDED:
Attended and participated in several State & National Level Seminars  and Workshops.
AWARDS:
STATE LEVEL LITERARY AWARDS : Konakani Bhasha Mandal Award, Goa Konkani Academy Award, Konkani Kala Sahitya Kendra Award, Yuva Sahitya Sammelan Award, Bimb Award.NATIONAL LEVEL LITERARY AWARD : Bhartiya Bhasha Parishad Award.
ANY OTHER RELEVANT INFORMATION:(MEMBER-BOS,ACADEMIC COUNCIL/ASSOCIATION RESOURCE PERSON, M.PHIL/PH.D GUIDE ETC )
Served as BOS member at Goa University.Served Resource person at several seminars & workshop.Received Best Script, Best Direction prizes at the state level Konkani Drama Competition of Kala Academy, Sankalp Theaters and others.
---