---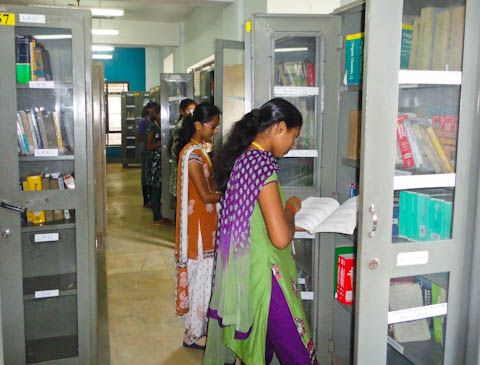 The College library is well stocked with books related to all disciplines. It subscribes to 6 local and 5 national dailies. At present, it has a total of 19,193 books for general reading and reference.
The Library has special sections on Law, Environment, Women's Studies and Goa. In addition to these books we subscribe to 38 Journals and Magazines. There is a collection of 289 Audio and Video Cassettes. Every year, the stock of books is upgraded. Students are encouraged to avail themselves of the facilities provided by the library.
The college has a new library block cum computer centre
Total area of the library (in Sq. Mts.):   1350 Sq.mts.
Total seating capacity: 100
Working hours (on working days, on holidays, before examination days, during examination days, during vacation): 8 hours on all days except Sundays and public holidays
Each department is involved in enhancing respective departmental library resources. The faculty recommends books for purchase. The library committee scrutinizes the same and places order for the books after following the due procurement procedures.
Outlay on Library Resources
Library holdings
2008-09
2009-10
2010-11
2011-12
2012-13
No.
Total Cost (Rs.)
No.
Total Cost (Rs.)
No.
Total Cost (Rs.)
No.
Total Cost (Rs.)
No.
Total Cost (Rs.)
Text books
289
53290
260
91862
232
34051
448
1776
518
150850
Reference Books
164
75496
110
43615
164
72240
661
1430
110
38000
Journals/ Periodicals
36
21512
34
25509
27
23922
20
17436
24
15384
e-resources
—
—
—
—
—
—
—
—
YES
5000
* Under the N-List facility, students and staff have access to around 50,000 online journals and 3000 books
* The college library also subscribes to national and local newspapers
Library Resources:
OPAC
Electronic Resource Management package for e-journals
Federated searching tools to search articles in multiple databases
Library Website
In-house/remote access to e-publications
Library automation
Total number of 12 computers for public access
Total number of 02 printers for public access
Internet with 2 Mbps speed
Content management system for e-learning
Participation in Resource sharing networks/consortia (like Inflibnet)
Specialized Services Provided by the Library
Reference
Reprography
ILL (Inter Library Loan Service)
Information deployment and notification (Information Deployment and Notification)
Download
Printing
Reading list/ Bibliography compilation
In-house/remote access to e-resources
User Orientation and awareness
Assistance in searching Databases
INFLIBNET/IUC facilities
---